Assign Record Ownership
Consider this scenario: Attorney A retires and the Systems Administrator deletes her from the Employee Address Book. Newly-hired Attorney B is replacing A and would like a list of A's records in the Address Book. When she runs an Address Book Report by owner, Attorney A is no longer listed as an employee.
To avoid this, the Systems Administrator should retain Attorney A in the Employee Address Book and A's secretary should assign ownership of all of A's records to B.
_________________________________________
When a user creates a record, that user becomes the owner of the record. Other users can view, modify and even delete the record (unless the owner has tagged it as a private record). But if a non-owner creates an Address Book Report based on ownership, only the records he or she created will be included.
If a user wants to include records in this report that he or she has not created, the owner of the record can grant ownership to another user.
Click on Address Book, View Address Book
Search for and select the record you want
Click on the Address tab
The following screen appears: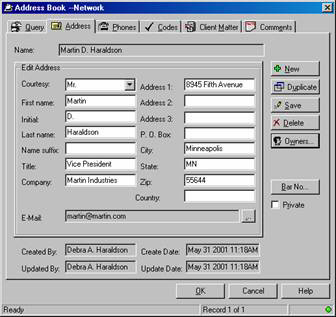 Click on the Owners button.
The following screen appears: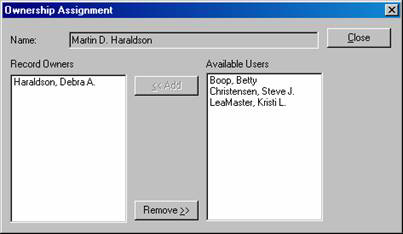 The name of the owner of the record appears on the left and all other employees of the firm are listed to the right.
Highlight the name to whom you wish to grant ownership and click on the Add Button.
The new owner will appear on the left.
Click Close when done.
When the new owner run an Address Book Report by Owner, this record will appear on the report.