Private Codes:
Codes can be assigned to records in the Address Book then used in queries for Mail Merge documents.
Users can edit, add and delete their own set of private codes .
To Assign/Unassign Codes:
Open the Address Book.

Query the Address Book for the record you want.

The records that match your selection criteria will be displayed in the Query Results Name section.

To view Codes, select a name and click on the Codes tab. The Codes screen will appear with the list of assigned Public Codes for this record.
The following screen will appear: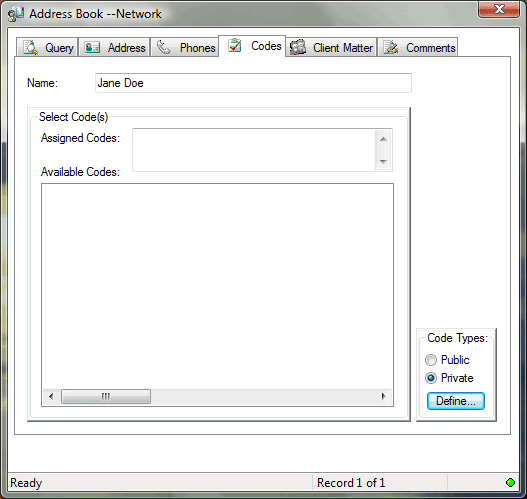 To define a Private code, click on the Define button.

Enter in the name for the New Code, then click Add. Continue to add to the list of Private Codes as necessary. When done, click Close.
To assign a code, click on the code from the Available Codes in the lower list box.

To remove a code assignment, select the code and click Remove.
Multiple codes may be assigned or removed.